Best 3 Mechanical Keyless Door Locks 2023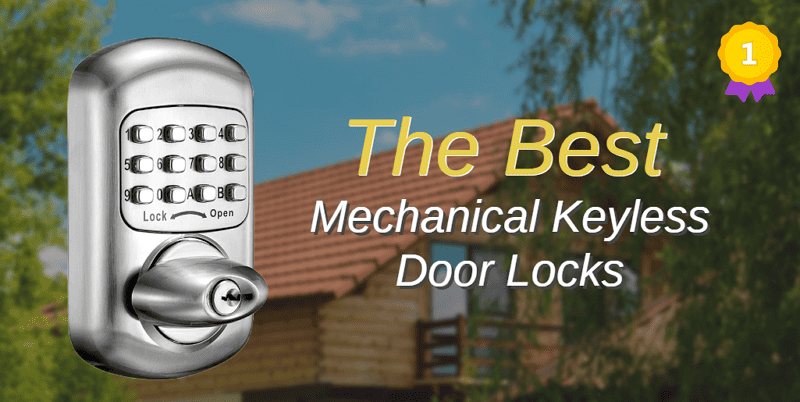 As technology evolves, so do security measures for homeowners. Traditional locks are no longer sufficient to provide the level of protection needed for homes and businesses. This is where mechanical keyless door locks come into play.
These locks use codes on the keypad to grant access, and operate without the need for keys and battery, which offers a combination of convenience and security that traditional locks and smart locks cannot match. In this article, we will explore the top 3 mechanical keyless door locks in the market that can enhance your home security.
1. Elemake Mechanical Keyless Deadbolt
In the realm of mechanical keyless entry systems, Elemake mechanical keyless deadbolt emerges as a game-changer, designed with maximum security and user-friendly functionality. It not only enables you to unlock the door by entering personalized codes on the mechanical keypad, but also provides a physical key alternative for added peace of mind. Moreover, changing access codes is remarkably easy compared to other options available in this market segment.
Crafted from solid zinc alloy, this lock remains unaffected by varying weather conditions, ensuring consistent performance year-round. From its innovative design to its heavy-duty build and high-level of security, this Elemake lock is designed to provide safety for exterior doors, ensuring your home reamins safe and protected. Whether you're seeking a secure entryway or aiming to streamline your access control, the Elemake mechanical keyless deadbolt has you fully covered.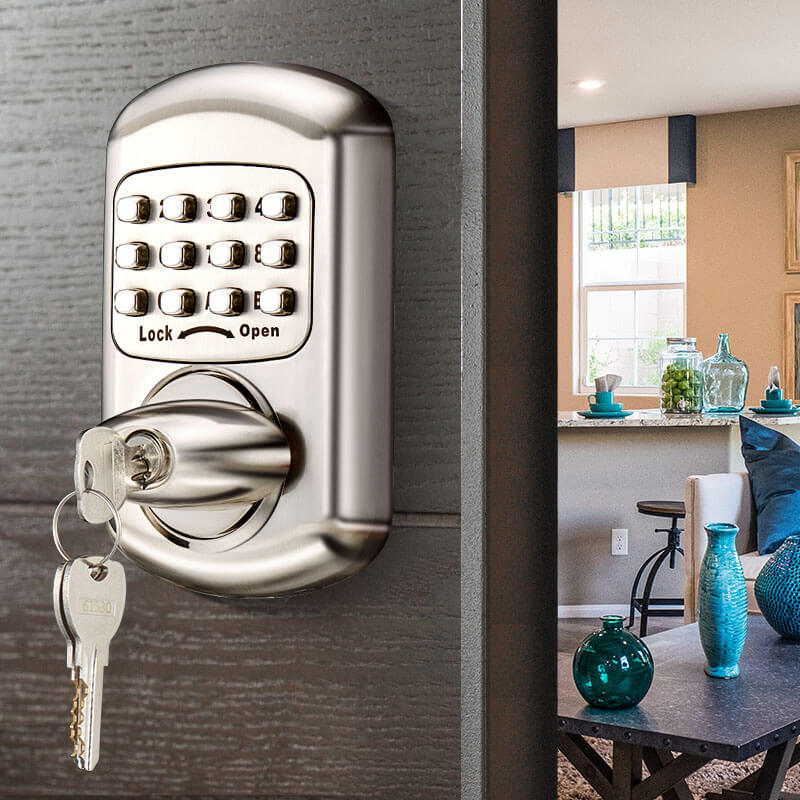 Features:
Mechanical, keyless deadbolt lock.
Dual access options: mechanical push buttons, or a physical key.
Easy to change code and install.
Great for residential front entry, garage entry, apartment building, office entry, storage room, and etc.
Solid zinc alloy, all-weather resistant.
Combination can be 4-8 digits in any order (no repeats).
Does not lock automatically, so you don't need to enter the passcode again and again. (This can be a Pro or Con depending on your needs).
Suitable for standard prepared doors, maximum borehole diameter 2-1/8".
For left/right handed and inward/outward opening doors.
2. Lockey USA M210
Lockey USA M210 keyless deadbolt lock is one of the best sellers in this category. This lock features a vandal-protected, rust-resistant and combination keypad. With no keys and a more compact body, these locks provide security for at an more economical price point. Locks are said to be bump proof, pick proof, and hacksaw proof to provide heavy duty security for gates or doors. It is particularly suited for light traffic residential and small office entry doors where you want to control access for a relatively few number of people.
In addition, this particular model comes in many great colors such as: Bright Chrome, Bright Brass, Jet Black, Marine Grade, Oil-Rubbed Bronze, Satin Chrome, Satin Nickel, and White.
Features:
Mechanical, keyless deadbolt lock.
Material: Zinc-plated steel.
Combination can be 2-5 digits.
Changeable handing, for right or left handed doors.
For exterior & interior Use.
Available as a double sided combination lock.
Adjustable deadbolt backset.
Covers standard 2 1/8'' hole.
3. Simplex LP1000 Series Mechanical Pushbutton Lock
Simplex LP1000 Series Mechanical pushbutton lock is another mechanical push button lock with no wiring, electronics, or batteries. The LP1000 Series ensures secure exterior access through combination input while allowing easy egress with an interior exit device. It adheres to ADA standards, striking the right balance between security and convenience. The lock's robust construction features vandal-resistant metal pushbuttons and weather resistance, ensuring long-lasting performance.
Plus, with straightforward programming of the passcode via the keypad without removal from the door, the LP1000 Series lock offers hassle-free management of access codes. Whether you're looking to upgrade access control for frequent use or seeking a reliable solution for various door orientations, the Simplex LP1000 Series lock proves its worth in modern security applications.
Features:
Small format interchangeable cores, large format removable cores.
Heavy-duty latchbolt with deadlocking plunger.
Provides exterior access by combination while allowing free egress with Exit Device (not supplied).
Vandal resistant, solid metal pushbuttons, weather resistant.
Lock is easily programmed via keypad without removing lock from the door.
Heavy-duty cast front housing; heavy-duty mounting plate; fixed ADA-compliant lever.
Fits left and right swinging doors.
Conclusion
As we've explored the top 3 mechanical keyless door locks in the market, it's evident that these locks have revolutionized the way we safeguard our homes and businesses. From the Elemake Mechanical Keyless Deadbolt's uncompromising security to the Lockey USA M210's economical excellence and the Simplex LP1000's ADA-compliant sophistication, each lock brings a unique blend of features that cater to various security needs and preferences.
Whether you're upgrading access control for a busy household or fortifying entryways for a small office, the transition to a mechanical keyless door lock promises a safer and more efficient future. The days of fumbling for keys or worrying about battery life are replaced by the simplicity of personalized codes and durable designs. By choosing a mechanical keyless door lock, you're taking a proactive step toward enhancing your security, simplifying your daily life, and embracing the future of access control.