Can Smart Locks Be Hacked?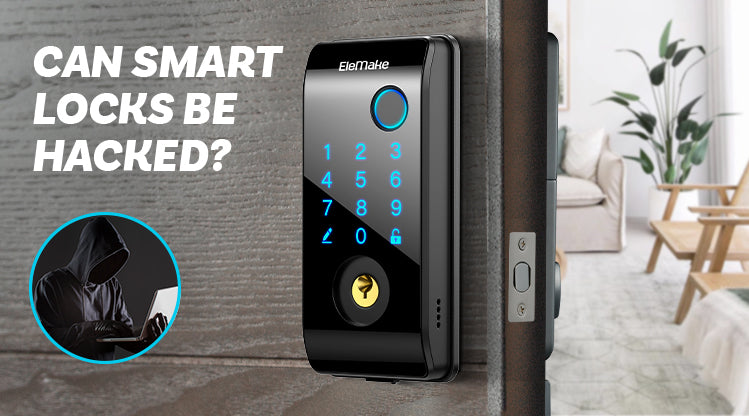 Smart locks definitely help amp up the security of your property. Considering the increasing crime rate and frequent incidents we hear about break-ins and burglaries, it seems that we cannot do enough for our home's security. This is primarily why most people these days prefer to have smart locks installed. The question is, are these locks foolproof? Can they be hacked? Let's find out!
What Is A Smart Lock?
Before we talk about the features and safety quotient of smart locks, it's crucial that you understand what these locks actually are. How do they play a vital role in your home's security?
Smart locks are smart devices enabled with wireless technologies like Wi-Fi, Bluetooth, and Zwave that ensure that you no longer have to carry around a bunch of keys with you. You can lock and unlock your doors with a mere tap of your finger or even your voice command.
The best thing about these locks is that they even give you remote access. So you have complete control over who enters your house, even when you are away. Want to know more about how these smart locks make things easier for you? Here's a little insight.
For one thing, these locks can be controlled via an app. So you can manage your home locks even when you are miles away!
With Wi-Fi-connected smart locks, you can view the entry and exit logs of your property in real-time.
These locks offer you keyless entry options. You can unlock the door with the app, with an RF card or with custom codes. They can also be set to open on voice command or fingerprint recognition.
With smart locks, you can create temporary and permanent entry codes. These can be given to visiting guests, servicemen, and similar other people without the security of your house being diluted. Additionally, you can set access limitations for every code.
Smart locks have auto-locking options that you can use to ensure that the door locks automatically if it has been left unlocked for a given time period.
You will get alerts sent to your smartphone if someone tries to tamper with the smart lock so you can take timely measures.
How Secure Are Smart Locks?
Pretty secure! The most significant benefit of smart locks is that they have all the benefits of a traditional lock along with many other valuable features.
One worrisome problem with traditional locks is that they are vulnerable to picking. And there's always the stress of losing or misplacing your keys. All these problems can be dealt with pretty effectively with the help of smart locks.
Smart locks use techniques like encryption, modern authentication, and fingerprint recognition to minimize the risk of intrusions and break-ins. Furthermore, they can be controlled remotely and electronically, ensuring ease of access. The remote control feature of the smart locks also ensure that you are able to keep tabs on the comings and goings of your property at all times. You get close monitoring with complete accuracy. You can even know the exact time when someone entered and exited your property, thereby amplifying your property manifold. You can lock your house from practically anywhere!
And most locks have traditional deadbolts too. So they are every bit as secure as a traditional lock.
Don't forget that smart locks are an evolving technology. Hence, the security they provide will continue to improve.
Tips: If you want to learn more about "how secure are smart locks", this post Are Smart Door Locks Safe? could come into handy.
How Can Your Smart Lock Be Hacked?
Most smart devices carry a risk of hacking, and smart locks are no exception. Hackers can access your phone data and break into your house. Of course, measures have been taken to prevent hacking, but there's always a chance of a hacker finding some flaw in the system that he can benefit from. So how can smart locks be hacked? Here are a few ways.
The hackers can use Bluetooth sniffing for this purpose. There are many Bluetooth hacking devices that they can use to access your locks. However, they will have to be in physical proximity to your locks to manage this.
Wi-Fi Breaching is another way via which hackers can access your smart locks. They can detect and use vulnerabilities in your Wi-Fi connection to access your locks.
Your smart locks are at an increased risk of hacking if they are supported by out-of-date firmware.
How Can You Prevent Hacking?
Fortunately, there's a lot that you can do to prevent the risk of your smart locks being hacked. Here are some of the security measures you can take.
For starters, make sure that you get your smart locks only from trusted brands. These brands are more likely to provide you with up-to-date locks with high-end security. Reliable brands have smart locks with built-in security features that can prevent hacking to a large extent.
Ensure that your smart locks are up-to-date. Make it a point to update your firmware at every possible opportunity so that the hackers do not get a chance to use the lock's vulnerabilities to their advantage.
It's better to use smart locks with AES Encryption. This is an advanced technology that will protect your house from hackers, as they won't be able to access your locks without knowing the password. Or they would have to break into your Wi-Fi.
It's best to use Two-Factor authentication, which will ensure that no one unauthorized gains access to your property.
The Best Brands Of Smart Locks You Can Consider
As we have mentioned, you can minimize the risk of security compromises in smart locks by installing one only from a reliable and high-quality brand. Here are some of the best options you have for the purpose.
Ultraloq U-Bolt Pro Wi-Fi Lock
This one's a versatile and precise smart lock that will do wonders for your home security. Its low-profile design makes it all the more appealing. The smart lock can be accessed via a number of ways, including an app, physical key, and even via fingerprint. It's responsive, quiet, and is aesthetically pleasing too.
The Schlage Encode Plus Smart Wi-Fi Deadbolt
This smart lock is for all those who use Apple Home Kit. This lock can be controlled by holding your Apple device nearby. It's easy to install and simple to use. If you want a smart lock for your rental property, this one is the best option. It's a commercial-grade lock that also comes with a built-in alarm.
EleMake Fingerprint Door Lock With Deadbolt
Combing a stylish design with advanced technology, EleMake Fingerprint Door Lock with Deadbolt features 5 entry options, remote control, Bluetooth connected or WiFi connected via a WiFi gateway, Micro-USB for emergency power, working with Alexa and Google Assistant, etc. It highly secures your property while streamlining your home, office or rental property.
Get The Best Smart Lock For Your Property
The security of your property can never be taken lightly. So do what's necessary to minimize the risk of break-ins and intruders. Get high-quality smart locks installed that aren't only advanced and secure but also easy to use.