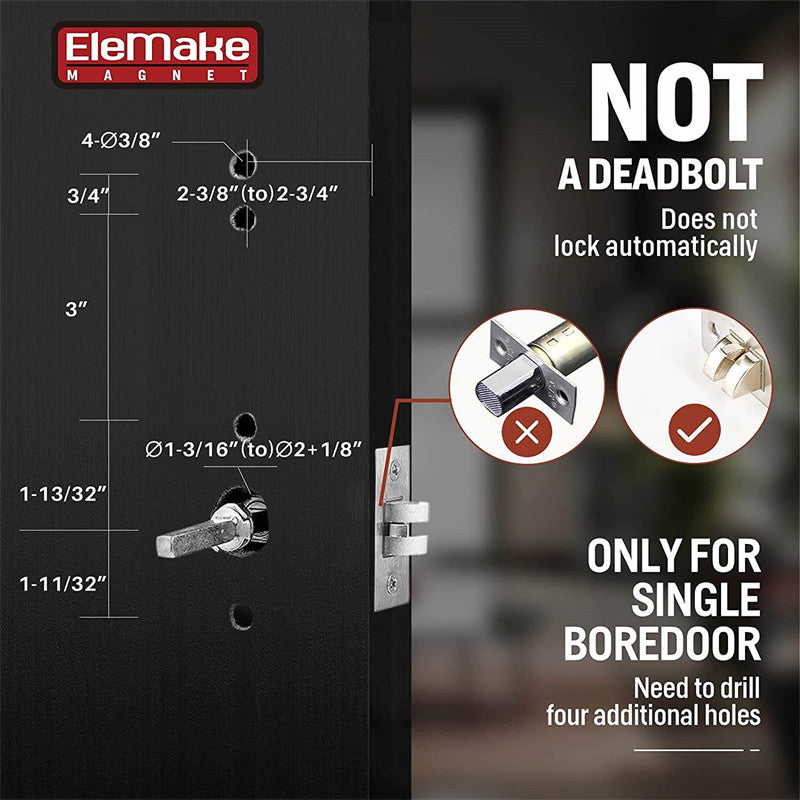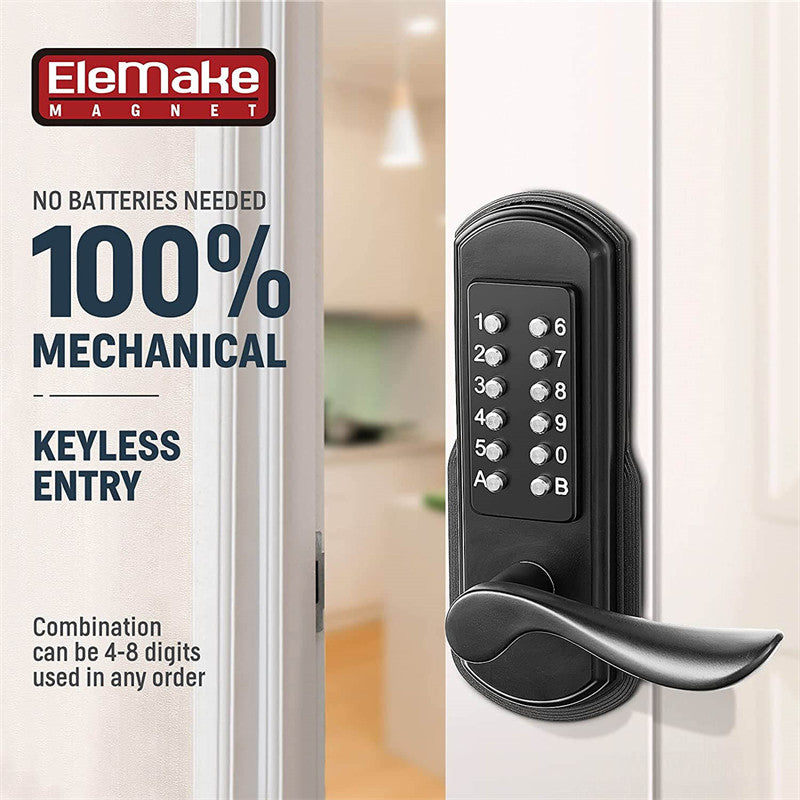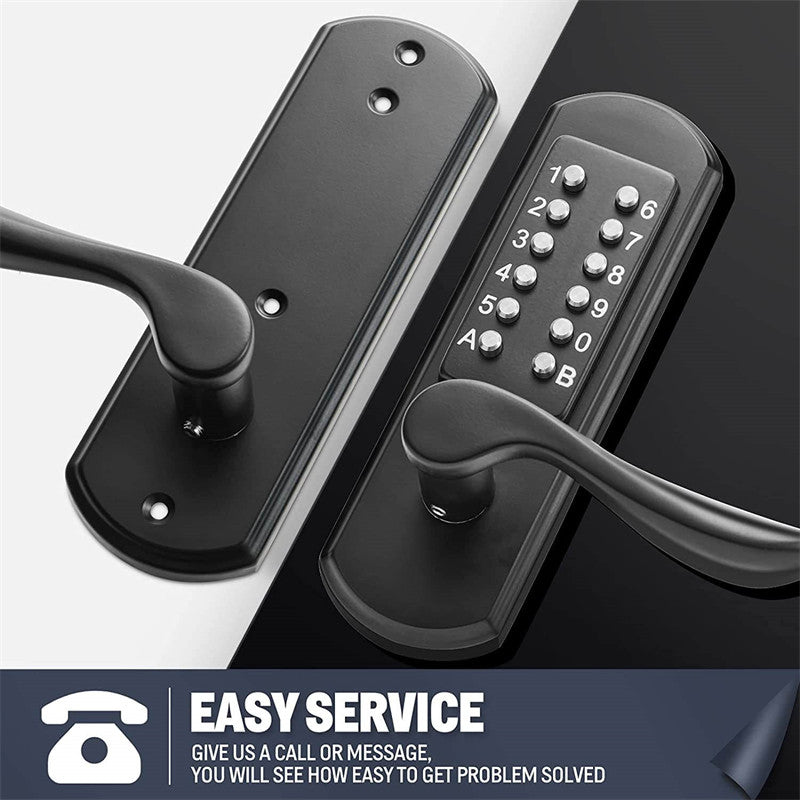 Elemake Right Handed Keyless Entry Door Lock with Keypad Black
Product Type:
Mechanical Spring Latch
Regular price

Sale price

$63.99

Unit price

per
Christmas Sale 10% Off (Code: Elemake10)
Free Shipping To The Continental USA
Model: MKS004-R
Elemake Keyless Door Lock with Keypad, Right Handed Mechanical Door Lock, Security Combination Digital Locks Stainless Steel 304 - NOT a Deadbolt, Need to Drilling Additional Holes
Description
1. Easy to install, With installation instructions or website.
2. No batteries required. Stainless Steel 304 mechanical door lock
3. Safe, durable, hand-held, humanized
4. Does not lock automatically (this is a pro or a con depending on your need)
Easily open the lock using either the passcode or the key; Wear-Resistant Keypad: The keypad material is wear-free, leaving no clues for thieves to follow
The lock body and latch are made of high-quality stainless steel 304, ensuring long-lasting durability and resistance to corrosion, difficult to pry open. The keypad is also wear-free, it is an ideal choice for those who want a mechanical lock that is easy to use and hard to break.
4 additional holes will need to be drilled for installation. Do not use it in conjunction with a deadbolt as there may not be enough space, The lock does not automatically lock, when unlocked, the door will stay that way until you pull up the handle to lock it.
Choose a combination of 4-8 digits (no repeats) for your passcode. Please note that the combination code can be used in any order. The lock can be easily reset to a new combination in just a few simple steps. This feature ensures that you can change the passcode regularly for added security.
Full Size 7.67" x 2.44" (195 x 62mm). Maximum Applicable Bore Size 2 – 1/8"; Both 2-3/8"(60mm) & 2 - 3/4"(70mm) Backsets/Latches. Suitable For Wood, Metal, and Plastic Door Thickness Within 35-50mm

Feature
1. The lock will stay unlocked until the handle is lifted up. once unlocked you can come and go as needed without having to re-enter the code
2. The lock is a bump proof pick proof keyless mechanical door lock and it does not require wires, batteries, or electricity
3. The lock handle must be "pushed up" to reset clear buttons and lock the lock
The lock provides keyless security, and the combination can be 4-8 digits with tumblers that are easy to install, use, and change
4. The lock fits most doors and is all weatherproof
5. This lock can be used for exterior as well as interior doors
6. The lock has a lever handle on the outside as well as inside


Warm Tips
1. Only for the door open inward
2. Not deadbolt
3. Only for single bore
4. Need to drill additional 4 holes for the fasteners
5. The handle must be "pushed up" to reset clear buttons and lock the lock
6. Combination password settings can be 4-8 digits, You can enter the number you set to unlock, and can be in any order
Check that your door open direction matches the picture shown. This is not a deadbolt, but a right-handled mechanical combination door lock that doesn't require batteries


Specification
1. Maximum borehole diameter 2-1/8"
2. Never grows faded/worn, Anti-friction spring latch
3. Both 2-3/8"(60mm) & 2- 3/4"(70mm) Backsets/Latches 50.60 single tongue lock body
Dimensions:195x62mm(Full Size), Wood or metal, plastic door thickness within 35-50mm

Package Included:
1 x Right Handed Door Lock Set
(Necessary bolts are included)
Shipping
We offer Free Shipping on all products shipped to the continental United States with no amount limit.
Processing time: Normally takes 1-2 business days.
Shipping time: Normally takes 3-5 business days.
Delivery Time: Normally the product is delivered in 4-7 business days.
We Ship By UPS, USPS, FedEx & Amazon Logistics. Generally, all of our products are shipped from the United States.
We do not provide online ordering service for other countries, if you need wholesale, please contact our customer service team.